Bad Things Happened On Tinder?
Believe me when I say, we are as surprised as you that something bad happened on Tinder…  If you have any bad date stories that are memeworthy, shoot us a message and describe your terrible date (doesn't have to be Tinder, could be Grindr, POF, CL Casual Encounters, CL Human Services Directory, whatever)…
At the top of each page starting on page 2, there will be a story memorialized in text on picture, we hope you enjoy them along with Savage comebacks in the Tinder Rocks section and everyone's favorite Tinder Fails.
---
Tinder Rocks
It has been theorized that women decide weather or not they'll have sex with you in the first 10 seconds, so your opening game on Tinder is super important, it's good to make a good first impression.  If you have any hilarious Tinder stories, go back and leave them in the comments.  This section deal with the intro game and how to or how not to start a good conversation on Tinder.
---
Tinder Fails
The key to success is to learn from not only your own failures, but to learn from the failures of others.  This section deals with things not to do while conversing online/via text message.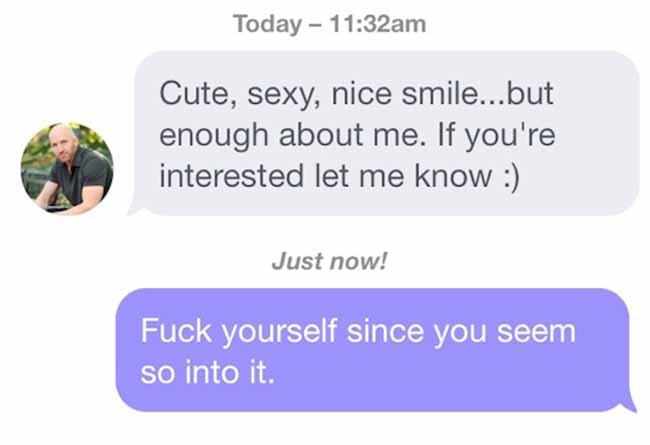 ---
---